Stephen Album Rare Coins, USA-Santa Rosa (California)
17. January 2019 - 19. January 2019
Auction 33
Stephen Album Auction 33
Stephen Album Rare Coins will hold its Auction 33 on January 17-19, 2019 on location in Santa Rosa, California. Lot viewing will be available at the New York International Numismatic Convention (NYINC) from January 10-13. The auction is comprised of 2,620 lots of Ancient, Islamic, Chinese, General World, and Indian Coins. Some featured groups in the sale include a nice collection of coins of Poland, a number of rare grade Russian coins, many Chinese rarities, as well as a vast number of early Islamic silver and gold.
Some highlights from the sale follow: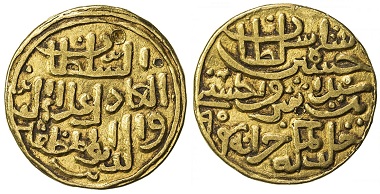 Lot 1361.
Lot 1361: Bengal. Hussain Shah, 1493-1519, gold tanka (10.36g), Khazana (the Treasury), AH904, G-B757, royal formula divided between obverse & reverse: al-sultan al-'adil 'alâ al-dunya wa'l-din abu'l-muzaffar // hussain sultan bin sayyid ashraf al-hussaini khulida mulkuhu khazana 904, presentation style with full legends within outer circular border, 3 small testmarks, VF, RRR. Estimated at $30,000 to 35,000
This is clearly a special presentation issue, almost perfectly centered and with complete borders on both sides. The standard gold tankas of the later sultans of Bengal, including Hussain Shah, were struck on planchets that were not as wide as dies.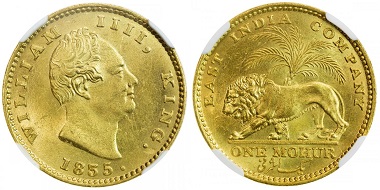 Lot 1607.
Lot 1607: British India. William IV, 1830-1837, gold mohur, 1835(c), KM-451.2, S&W-1.9, East India Company issue, R.S. incuse on truncation, lion standing left before palm tree, a superb example with brilliant lustrous fields, amongst the finest we have handled! NGC graded MS63. Estimated at $19,000 to 21,000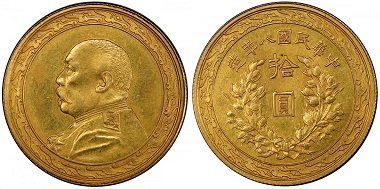 Lot 1805.
Lot 1805: China. Republic, gold 10 dollars, Tientsin mint, year 8 (1919), Y-330, L&M-1030, Yuan Shi Kai, dies engraved by Luigi Giorgi, PCGS graded MS62, RR. Estimated at $18,000 to 25,000
These gold coins were struck in 1919 during a brief attempt to reintroduce gold coinage. The plan never fully materialized, and essentially all of the small mintage of 10 and 20 dollar pieces vanished from circulation. Many of those that appear on the market were not carefully handled, and show evidence of cleaning or mishandling. This lovely example is an exception.
Lot 2216.
Lot 2216: Poland. November Uprising, 1830-1831, silver 5 zlotych, Warsaw mint, 1831, Cr-124, mintmaster KG, a superb example! next highest graded is MS62, NGC graded MS66. Finest graded by either NGC or PCGS. Estimated at $3,000 to $5,000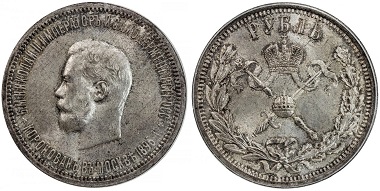 Lot 2255.
Lot 2255: Russian Empire. Nicholas II, 1894-1917, silver rouble, 1896, Y-60, Dav-294, Bitkin-322, Coronation of Nicholas II, with custom wooden case from the Goodman Collection, an exceptional quality example with golden tone around the periphery and bright clean surfaces, PCGS graded MS65, ex Irving Goodman Collection of Russian Coinage. Estimated at $4,500 to 5,500
Also, on January 20 will be the firm's first Internet-Only Auction, comprised of 500 lots of items estimated at $30 to $1000. Bidders who register online for Auction 33 will be automatically registered for bidding in this inaugural Internet-Only Auction #1.
The firm is now seeking consignments for its Auction 34 on May 23-24, 2019.
To browse through the catalogue and bid click here.
For more details visit the Stephen Album website.
Subscribe to our newsletter now
Get the latest news from the world of numismatics promptly delivered once a week by email.