Photographic insight into American economic history
April 12, 2018 – "The Sweat of Their Face: Portraying American Workers" is an exhibition of the Smithsonian's National Portrait Gallery. It reflects the influence of laborers in the U.S. through art and social history.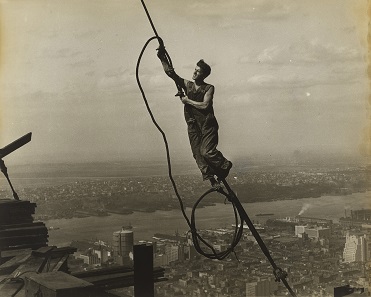 Workers on the Empire State Building by Lewis Wickes Hine. Gelatin silver print, c. 1930. Museum of Modern Art, New York City; Committee on Photography Fund; Digital image © The Museum of Modern Art / Licensed by SCALA / Art Resource, NY.
The exhibition presents nearly 100 portrayals of laborers by some of the nation's most influential artists.
Child Labor, c. 1908 by Lewis Wickes Hine. Gelatin silver print, c. 1908. Bank of America Collection.
The multifaceted exhibition includes paintings, sculptures, drawings, prints, media art and photographs that reveal how American workers have shaped and defined the United States over the course of its history – from the Colonial era to the present day.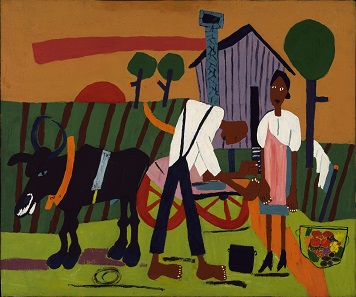 Farm Couple at Work by William Henry Johnson. Oil on paperboard, c. 1942-1944. Smithsonian American Art Museum, Washington, D.C.; gift of the Harmon Foundation.
The exhibition examines the intersections between work, art and social history. The fully bilingual (English and Spanish) display will be on view until September 3, 2018.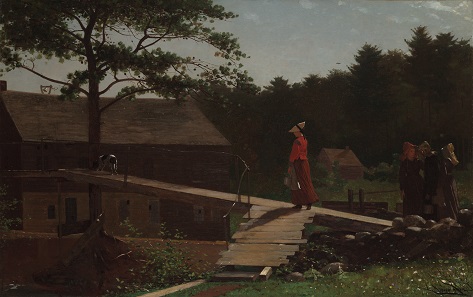 Old Mill (The Morning Bell) by Winslow Homer. Oil on canvas, 1871. Yale University Art Gallery, New Haven, Connecticut; bequest of Stephen Carlton Clark, B.A. 1903.
"The Sweat of Their Face" includes portraits by Winslow Homer, Dorothea Lange, Elizabeth Catlett, Lewis Hine, Jacob Lawrence and other renowned American artists.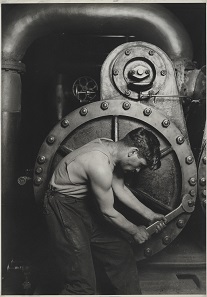 Power House Mechanic by Lewis Wickes Hine. Gelatin silver print, 1920-21. Brooklyn Museum, New York; gift of Walter and Naomi Rosenblum (84.237.7).
"Power House Mechanic," a photograph by Lewis Hine, …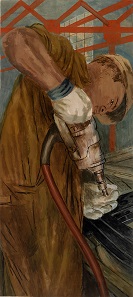 The Riveter (mural study, Bronx Central Post Office) by Ben Shahn. Tempera on paperboard, 1938. Smithsonian American Art Museum, Washington, D.C. Transfer from the General Services Adminstration.
… and "The Riveter," by Ben Shahn, are significant works in their own right, but they also highlight the artist's ability to recognize the vast population of anonymous workers and the contributions that their subjects have made. Furthermore, those depicted in "The Sweat of Their Face" draw attention to the relationships that exist between the viewer, artist and subject, many of the people portrayed are anonymous workers.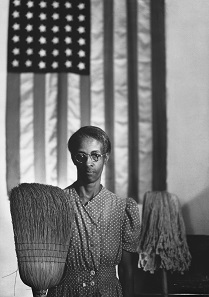 Washington, D.C. Government charwoman (American Gothic) by Gordon Parks. Gelatin silver print, 1942 (printed later). National Gallery of Art, Washington, D.C.;Corcoran Collection (The Gordon Parks Collection) Courtesy of and © The Gordon Parks Foundation.
Laborers and their work have been shaping this country since its inception. "In 'The Sweat of Their Face,' we explore who works, why and how their surrounding conditions have changed and evolved over time," said Kim Sajet, director of the National Portrait Gallery. "In the early years of the 21st century, crucial questions persist over issues of jobs and workers' rights, as well as larger issues of economic equality and social mobility. As we grapple with these questions, we might reflect on the labor of the workers from past epochs who have been brought out of anonymity and given the fullness of their humanity by some of America's great fine artists."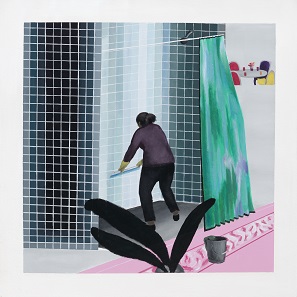 Woman Cleaning Shower in Beverly Hills (after David Hockney's Man Taking Shower in Beverly Hills, 1964) by Ramiro Gomez. Acrylic on canvas, 2013. Private collection © Ramiro Gomez.
Spanning centuries and encompassing various genres, each of the artists in "The Sweat of Their Face" depicts an individual at a specific moment amidst America's changing landscape, but as the exhibition reveals, some laborers remain the same.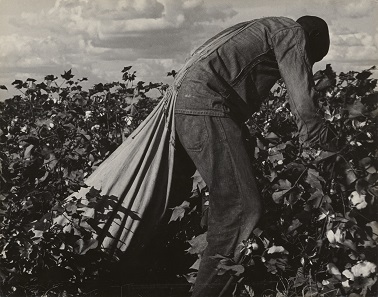 Stoop Labor in Cotton Field, San Joaquin Valley, California by Dorothea Lange. Gelatin silver print on Masonite mount, 1938. The J. Paul Getty Museum, Los Angeles, California (2000.50.11).
For example, migrant workers have always been a part of American labor's story, and portraits such as Jean Charlot's "Tortilla Maker" and photographs from the California fields are reminders that with immigration, the United States has benefited from cultural exchange, innovation and economic growth.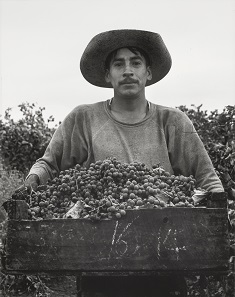 Grape Picker, Berryessa Valley, California, 1956, from "Portfolio Two" by Pirkle Jones. Gelatin silver print, 1956. Bank of America Collection © Special Collections, University Library, University of Santa Cruz: Pirkle Jones and Ruth-Marion Baruch Photographs.
This exhibition displays loans from such notable institutions as the Smithsonian American Art Museum, the Metropolitan Museum of Art, the J. Paul Getty Museum, the Phillips Collection and the Pennsylvania Academy of the Fine Arts, among others. "The Sweat of Their Face" is organized by curator of painting and sculpture, Dorothy Moss and historian emeritus, David C. Ward. An accompanying catalog presents essays by Moss, Ward and British art historian John Fagg.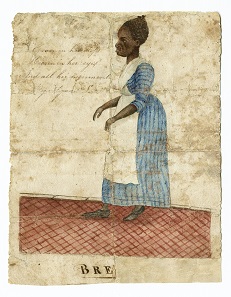 Miss Breme Jones by John Rose. Watercolor and ink on paper, 1785-87. Abby Aldrich Rockefeller Folk Art Museum, Williamsburg, Virginia; Museum purchase, the Friends of Colonial Williamsburg Collections Fund.
The Smithsonian's National Portrait Gallery tells the multifaceted story of America through the individuals who have shaped its culture. Through the visual arts, performing arts and new media, the Portrait Gallery portrays poets and presidents, visionaries and villains, actors and activists whose lives tell the American story.
For more information or to plan your visit go to the National Portrait Gallery online.
You all know the iconic photo of the lunch atop a skyscraper. Her you will find the background story behind it.
Subscribe to our newsletter now
Get the latest news from the world of numismatics promptly delivered once a week by email.