Italy issues new coin celebrating the Baroque
April 26, 2018 – A new Italian silver coin was issued that is dedicated to the country's Baroque period. On the coin, Italy is embodied by a woman on the obverse while the reverse shows the statue of Santa Veronica by Francesco Mochi. The coin is part of the European Silver Programme that allows different EU partner states to issue a coin of their own.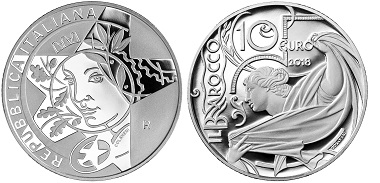 Italy / 10 Euro / silver .925 / 22g / 34mm / Design: Maria Carmela Colaneri / Mintage: 4,500.
On the obverse, you can see a woman face representing Italy within a circle inscribed in a five-pointed star, with figurative elements drawn from the emblem of the Italian Republic: the cogwheel, oak and olive branches. Above, between two points of the star, a towered crown; below, the Europa Star Programme logo and the name of the designer "COLANERI"; below, on the right, "R" identifying the Mint of Rome; around, the inscription "REPUBBLICA ITALIANA".
On the reverse, there is a detail from the statue of Santa Veronica by Francesco Mochi (Basilica of Saint Peter's in the Vatican) mingled with sculptural decorative elements by Bernini and Borromini which are representative of Baroque art. On the left, vertically, the inscription "IL BAROCCO"; above, the value "10 EURO" and the year of issue "2018"; below, the name of the designer "COLANERI".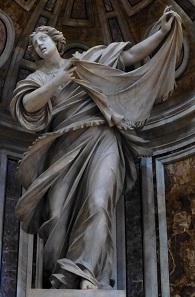 The statue depicted on the reverse is Francesco Mochi's "Santa Veronica" which can be found today in the Basilica of Saint Peter's in the Vatican. Photo: Christoph Wagener / CC BY-SA 3.0
The Baroque, an artistic and cultural movement flourishing in Rome around the third decade of the 17th century as its highest expression, was moved by the aim to surpass the perfect, smooth figures from the Classical period with more daring, rich and elaborate forms. Exuberance and theatricality, dramatic tension and strong light-and-shade contrasts are distinguishing features of an age inclined to be represented and celebrated gorgeously.
The coin was struck by the Istituto Polographico e Zecca Stato Italiano, whose website can be found here. (Italian only)
This link takes you to the European Silver Programme.
This video explains the story of Saint Veronica.
The last Italian coin from the European Silver Programme celebrated Gioachino Rossini. You can find our article here.
Subscribe to our newsletter now
Get the latest news from the world of numismatics promptly delivered once a week by email.